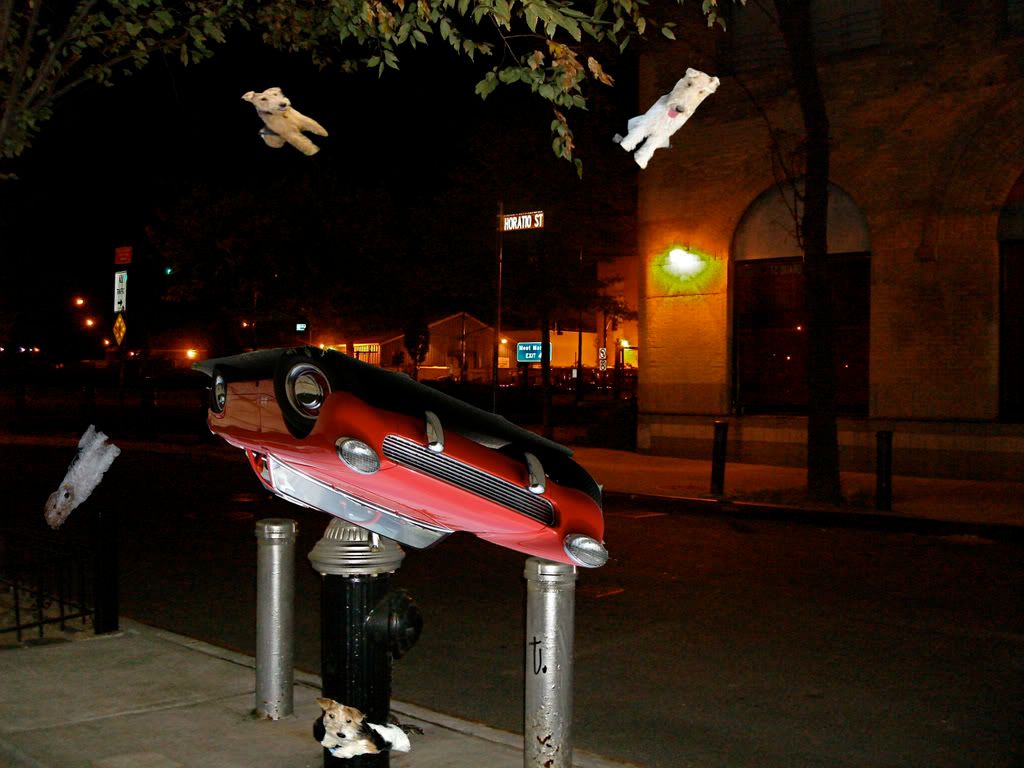 Hey Asta,
We're here!! Look out your window!! We had a small mishap and I didn't get the car parked next to the curb stone (a violation). Dewey has been having bladder problems all day and when he saw the fire hydrant on your street, he got so excited that he jumped out of the back seat, all the way across the windshield and landed right next to the fire hydrant. Meanwhile, Lacie tried to stop him, and bumped my paw that was on the steering wheel. I slammed on the brakes and veered at the same time and the kar flipped over and landed right on top of the fire hydrant upside down! Because none of us were wearing our seat belts (another violation), we all went flying, except for Dewey who was standing by the hydrant on three legs relieving himself (another violation). All of this is in the police report. I hope I don't lose my license.
Fortunately, none of us were hurt seriously since our fur protected us in our landings. Scruffy may have a minor head injury, but it's hard to tell with Scruffy. I'm sure there is no brain damage, at least none that I could notice.
I'm sorry that we arrived so late at night and made all that noise when we got here, waking up everybody in the neighborhood. At least we got here before the rain started. We rode around the city all day before we found your building since Scruffy was holding the map upside down, again. Did you know that there are a lot of streets here that all look alike? There are also an awful lot of cars, especially yellow ones. That seems to be a big color here. (I prefer red myself). We kept passing tall buildings and bridges. We even saw a lady out in the water with a torch in one hand and a book in the other. She didn't move once.
Anyway Asta, we are so happy to be here and look forward to spending a lot of time together. We may have to move in with you since my kar is unavailable and will be for some time. At least we have our credit cards.