Hi My Dear Furry and Non-Furry Friends,
There are some things that have been bothering me during this past week and I'd like to talk about them, so here goes:
1. My mom has been busy the last few days working on something that does not involve me or my blog and I am not happy about that. I have fallen behind on all my correspondence, and I haven't even posted for a while. By now, you are all probably tired of that video that was taken a week ago. If you think I was bored then, you should see me now.
2. The weather is terrible. We keep getting these yucky snow storms, as the TV meteorologists say here, "enough to shovel and plow".
But
not enough to have lots of fun in. Last year I loved to run up to the tops of the snow banks and look up and down the street. What a great view I had! I would run from snow bank to snow bank. I loved it. There was nothing better than standing on top of a five-foot snow bank looking all around. I could see the whole world! This year -- nothing! No big snow banks, just ice or slush or wet roads. (Come to think of it, mud is pretty good in its own way.) And cold. It's been cold, too. How I wish spring would come.
HEY SPRING!!!! WHERE ARE YOU??? PLEASE COME--SOON!!!
3. Look at my hair, will you? It's a mess. I can barely even see. My mom is going to give me a haircut (Hehe), or get me groomed as soon as I don't need all this thick wiry fur anymore. She thinks that I don't know this, but I heard her thinking about it the other day, and I will be ready. I will not make it easy for her. (Hehe) But, I would like to see better.
Now for the good things that have happened to me recently. This week I was honored to receive two very important and prestigious awards. I got the Funky Blog award from Noah and his sisters Willow, Tess, and Lucy. For that I am honored and deeply grateful. I will post it with pride. Thank You guys. It was so nice of you to do that.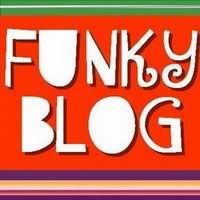 Yesterday I also received the coveted Toadally Awesome Award from Asta. I am just overwhelmed by this extraordinary compliment. As some of you know, zhaba is my Mom's email address. Zhaba is a very loose translation of "frog". That's why the Toadally Awesome Award is so special to me. Thank You, kousin Asta! I sincerely appreciate this wonderful honor that you have bestowed on me.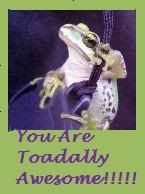 So, come to think of it, it was a pretty good week after all.