Two Awards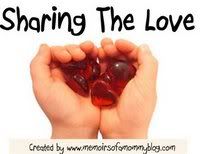 Hi Friends,
I was honored and privileged recently to receive two awards from my cross-state friends, Asta Marie, Dewey, and Toby. Thank You so much, guys. These awards are sincerely appreciated.
The Sharing the Love award has a really special story behind it.
This lovely award is created by Crystal @ Memoirs of a Mommy in honor of Noah and the donor of his sweet little heart who ENCOURAGES us to SHARE THE LOVE! The rules for this award are to pass it along to some people whose blogs you love. They make you laugh, smile, leave encouraging comments on your blog. You would like to share some love with them because they have uplifted, inspired, encouraged or prayed for you. Please include this paragraph with the link to Memoirs of a Mommy so that everyone knows where this award originated from. So you'll want ta visit the blog to see what it's all about. The story behind it brings tears to your eyes. I'd like to pass it on to my kousin Asta in New York.
************************************************************
The second award I received from Asta Marie, Dewey, and Toby is the butterfly award. Isn't she beautiful!! The butterfly flies free and goes wherever she wants to go. If she has not yet landed on your blog, please take her and then send her off in a new direction. She needs to visit many spots, so please keep her going. Thank You!